Linguine with Clams and Shrimp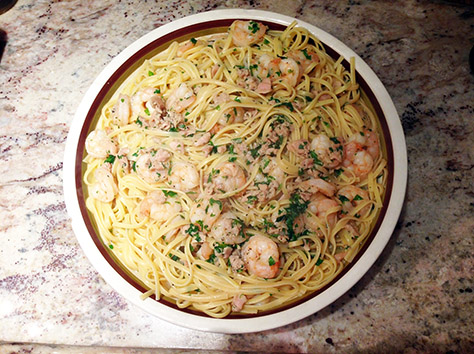 Make dinner for mom this mothers day with this easy and delicious pasta with shrimp and clams!
2 cans of chopped clams with juice
½ bottle clam juice
1 pound of large raw shelled deveined shrimp
1 ½ sticks of butter
2 cloves of minced garlic
¼ cup if chopped parsley
Melt ½ cup butter in a large pan over medium high heat until foaming. Add shrimp and sauté until they turn pink. Turn off heat and set aside.
In a small sauce pot melt remaining butter. Sautee garlic in melted butter until fragrant being careful not to brown. Add clams and their juices, clam juice salt and pepper to taste and simmer over low heat until heated through.
In a large pot of boling water with 1 T salt cook linguine until al dente. Drain linguine and place in a large serving bowl. Add shrimp to calm mixture and pour over hot linguine. Toss to coat and top with chopped parsley.