From Refined to Rugged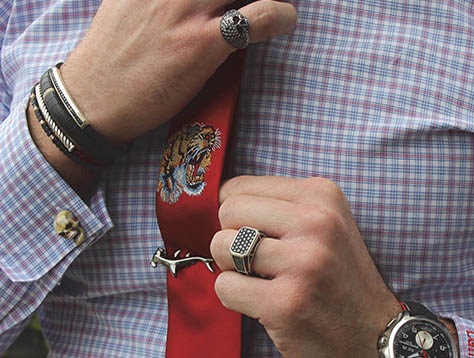 Jewelry and Watches Fit for Work and Play
By Lou (Geeg) Guarino
There is a common misconception that fine jewelry and timepieces should only be reserved for special occasions. Perhaps at one time that was the case, but no longer. One of the great things about jewelry is that it's an expression of one's unique style. Just like the clothes we wear and the car we drive, our jewelry says something about who we are. So why save that expression for the rare night out? Whether I'm suited up for a day at the office, or taking the day off cruising in my '94 Bronco, my jewelry and watches go where I go.
Here are some styles that I think transition nicely from refined to rugged.
A. David Yurman & John Varvatos
A yellow gold amulet chain by David Yurman is fine and funky at the same time. The beaded bracelets by John Varvatos make a big statement for a small price and the David Yurman 18k yellow gold and forged carbon ring tie the look together.
B. Carl F. Bucherer
A watch does so much more than tell time. This Carl F. Bucherer Scubatec exudes casual elegance with the 18k rose gold bezel juxtaposed against the black/blue rubber strap.

C. Deakin & Francis & David Yurman
The Deakin & Francis Skull cufflinks add the same playful touch to a shirt and tie as they would an untucked button down and jeans.
Matte black ceramic bracelets with hints of gold and diamonds are sharp enough to dress up but casual enough to dress down. One silver and red leather David Yurman bracelet pops amongst the rest.
The David Yurman skull pinkie ring is just bad @$$ ☺As is the, Hammerhead shark tie bar by Steven Webster

A. David Yurman & John Varvatos

B. Carl F. Bucherer

C. Deakin & Francis & David Yurman